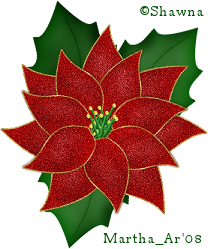 At last I'm back!!! I spent the whole day PSPing today, found some new tuts (like the result you see above) and many ideas (and new tools!!!) to make more Scraps & Tubes. That's good! I'm starting early this year. I'm not used to it.
This beautiful pointsettia you see is in png format, so you can just use the 'Save As' option. If you'd like the big version, press my Christmas avatar (below) to get it.
Smiles, Hugs & all that

Al fin pude abrir mi PSP y me pasé el día jugando. Anduve por la web y encontré muchos tutos bellos (como el tubo que ven arriba) y montone de ideas nuevas (y herramientas también) para hacer más Scraps y Tubos. Nunca había empezado tan temprano a hacer cosas para las fiestas. Está bueno, ¿no?
Esta poinsetia (o Flor de Pascua, como también se la llama) tan bonita que ven, está guardada en formato png. O sea, elijan Guardar Como, ¡y ya está! Si quieren bajar la versión grande (en formato psp), presionen mi avatar navideño (debajo) para llegar a ella.
Beso, Abrazos y muchos Mimos