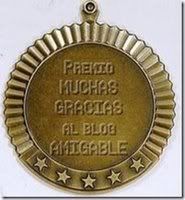 Wow!!! Hoy es mi día! Recibí una distinción de Sakura, una amante de las animés como yo, que llegó a mi vida junto con el nuevo año. Tiene un blog muy amistoso y una web buenísma. ¡¡¡Gracias Sakura!!!
Ahora soy yo quien pasa esta distinción a dos personas que son sumamente cálidas conmigo, me visitan y me miman. Para ustedes, Caro y Marga. ¡Gracias por la amistad que me brindan!
I got another award today, from Sakura. She has a cute blog and a very interesting website. And she loves animes, just like me. Thanks so very much Sakura!!!